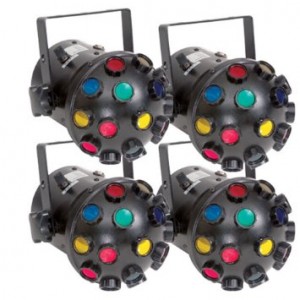 Rental $150 (set of 4)
The E-134 Starblast System package is a lightweight 4 unit In-Sync-System which includes no moving parts! This means less problems and headaches for the on the go Mobile DJ.
This system is powered by 1 master unit and 3 slave units. Connect as many as 16 units! Main Features: 18 multi-colored lenses per unit, 16 sound activated patterns, Automatic flash chase pattern, Static/All On.
• 4 x 120v 300w Lamps (EL-64514).
• Dimensions: 19.25″H x 12.75″W x 18.5″D.
• Complete System Weight 18 lbs.