Many couples want to plan their own wedding and simply need a little guidance from a wedding coordinator about how to make it just right. That is what we offer at Baltimore's Best Events. We have a lot of interest in this particular offering as most soon-to-be-married couples want to ensure that their special day is perfect. Contact us today!
Planning for the Big Day
We know how stressful it can be to try to get everything lined up just right for your big wedding day in Essex or Baltimore, MD. This is why we try to work with every couple that we can to help them see how the pieces can come together to make their wedding truly something special. Our wedding coordinator team can meet with you ahead of time to take some of the burden off of your shoulders and let you rest easy knowing that we have this under control.
The Things You Don't Want to Forget
When you meet with our wedding planner, we will work with you to make sure you understand the basic steps that we must take with you to help you get to your wedding day with everything tied up in a nice bow for you. This includes:
Getting invitations printed up and sent out
Making sure there is a seating arrangement set up
Ensuring that you have catering that will get everyone taken care of
Focusing on the small details that will add magic to the day
It is truly amazing to feel the burden lift off of your shoulders as you work with us to create the kind of wedding that you have always dreamed of. We know that we can be there for you because we have done so for many couples before. If you are ready to focus more on the happiness and joy that comes with getting married and less on the details, let us get to work for you!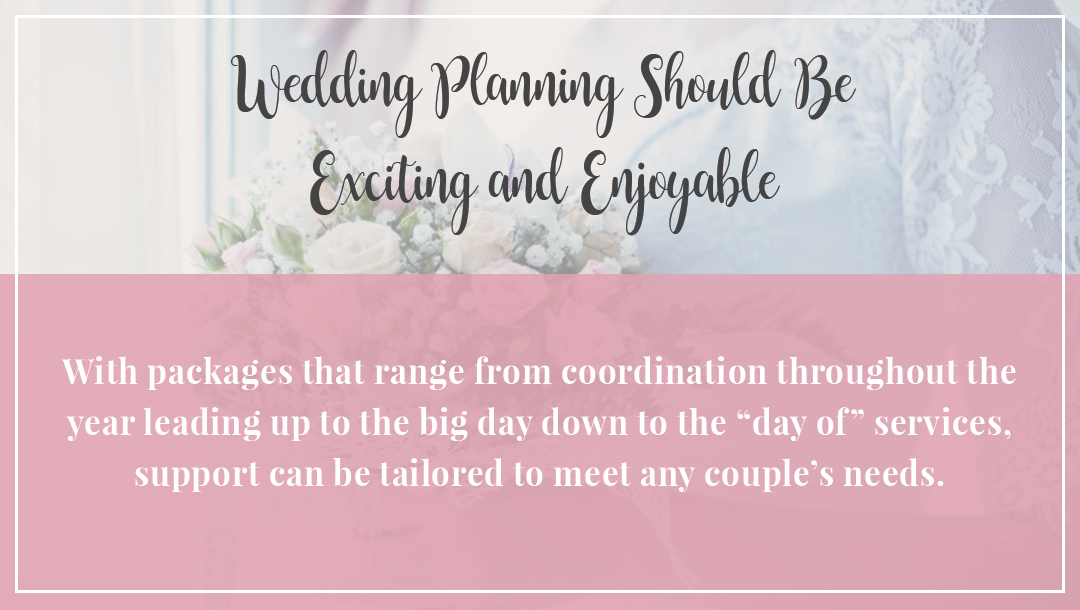 Pearl Package: "Planning Assistance"     
Fees: $325
This package is for the couple that would like to actually plan their wedding, but just need guidance all the way through.  This package provides the couple with the assistance of a wedding planner but at a fraction of the cost.
In the Pearl Package, you receive: 
List of all of our preferred vendors ($100 value)
1 hour Consultation
Wedding Do's & Don'ts
Virtual Bridal Notebook
Wedding Checklists
Budget Sheet
Limited Guidance throughout the planning process
Wedding Planner Advice
Unlimited Phone Calls/Emails
Ruby Package: "Wedding Day Coordination"                                                                               
Fees: Starts at $850
This package is for the couple that has planned their wedding, but just needs assistance to ensure their wedding day runs smoothly.   
*begins 4-6 weeks prior to wedding
In the Ruby Package, you receive:

Baltimore's Best Events team will manage and coordinate the rehearsal (if desired), ceremony and reception
Unlimited Phone Calls/Emails
Create a detailed Wedding Day timeline listing all vendors, wedding party and family
members involved
2 Wedding Coordinators
Up to 4 personal consultants (with or without vendors to finalize)
Unlimited coverage of Wedding Day (up to 8 hours)
Contact and confirm wedding details with all vendors including the timeline, determine their needs and providing general direction
Supervise all vendors including load-ins, setups, breakdown and load-out
Walk-through with vendors (at final meeting, if needed)
Remind the Bridal Party and family of important "call times" and items to bring on site.
Assist the bride and bridal party
Ensure florals are distributed to family and bridal party
Manage set up of basic ceremony and reception items
Issue final payment to unpaid vendors (if desired)

Sapphire Package: "Full Wedding Coordination"                                                                    
Fees: Starts at $1275
Our most popular package is for the busy couple who needs help from the beginning to end. We understand the stress involved with planning a wedding and Baltimore's Best Events is here to help to ensure you can relax and enjoy your engagement. 
*Exact fees will be determined at the complimentary consultation meeting
**For weddings with a budget in excess of $50,000, the fee is 15% of the total budget.         
***We recommend booking 12 months in advance for this package.
 With the Sapphire Package, you receive all the benefits of the Ruby Package plus:

Design and development of wedding day celebrations based on your unique vision of your perfect day
Create budget & submit monthly updates
Track payment due dates and alert bride and groom as they approach
Assist with hiring all vendors for a day that fits within your budget including venue selection, catering services, rentals, photography, florals, décor, etc.
We will review and assist with negotiating contracts
Referrals for all vendors from Crystal Package
Monthly meetings up until wedding or on an as-needed basis
Provide a monthly task list/ To-Do list & Wedding Day timeline
Assist with etiquette protocol for invitations, family matters, ceremony, and toasts
Provide a detailed timeline for entire wedding day, ceremony, and reception
Decorate Honeymoon Suite (within a 20-mile radius)
All services from the Ruby Package

Emerald Package: "Ultimate Coordination"                                                                 
Fees: Starts at $2150
This is the supreme of all packages. This package is for the executive bride and groom who want limited involvement with the wedding planners' process.       
*Destination Weddings start at $3000       
**The fees for this package depends on your budget, guest count, size of bridal party & how far in advance you book with us.
***We recommend booking 12 months in advance for this package.   
****This package has endless customizable options!
In the Emerald Package, you receive:

All services from the other packages
100 Custom Save the Date Cards
100 Custom Menu Cards
Custom Wedding Website
Rehearsal Dinner Coordination
Post Wedding Brunch Coordination
Custom Bridal Notebook
2-4 Wedding Coordinators

Crystal Package: A La Carte & Referrals
Our services can be retained on an hourly basis every month for $125 per hour (2 hour minimum).
These meetings are incredibly productive and focus on specific items (i.e. wedding reception decorations, linens, specialty china and linens, vendors task lists, etiquette guidelines).
These services can be purchased separately or added to another package to create a customized wedding coordination package.