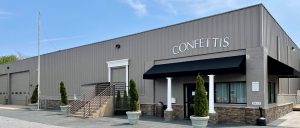 Your wedding is literally one of the biggest events of your life, and you don't want to take any chances with the venue rental in terms of potentially getting the wrong place. If you are in Essex or Baltimore, MD, or the surrounding areas, we are here to help. We are Baltimore's Best Events, and we work to live up to our name with every service that we provide. We are deeply involved with planning many weddings in the Baltimore area, and we are specifically interested in making sure everyone gets the venue that they need for the big day. We hope you'll contact us soon.
Don't think that this event center is just about weddings, either! There are many other events that can be held here as well, including:
Birthday Parties
Proms
Bar Mitzvahs
Holiday Parties
And more!

Includes: Tables, Chairs & Standard Linens
$150 for each additional hour
$175 for each additional hour after midnight
Friday Evening (after 6pm) minimum is $875 – Saturday Evening (after 6pm) minimum is $1050
*Updated as of 10/31/2017
What Is Included?
Confetti's Event Center's hall in Essex, MD will include standard tables, linens, and chair rentals for all of your guests when you get it booked. We can also work with you to provide other things that you might need for your event, including:
Floral arrangements
Costumes
Entertainers
Centerpieces
Invitations
And much more
Some of these items are relevant for a wedding specifically, and some are relevant for any kind of event that you might host at the event center. Let us know what kind of supplies you think you might need, and we should be able to work with you on providing specifically what you have in mind.
We try to provide you with the basics that you need to plan this type of event, and then we let you take it from there. As long as we can work together on this, we can make progress toward helping you have the wedding of your dreams.
If this venue sounds ideal to you, we want to hear from you. We have to get these things booked out well in advance so we can guarantee your date and time slot. We are happy to assist you with getting the times and dates that you want as long as we have availability open for them. The sooner you call, the sooner we can check!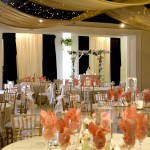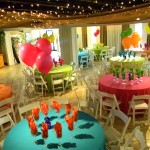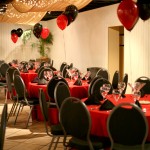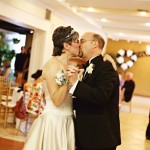 CONFETTI'S Event Center: 50% of the venue rental is due to guarantee the reservation. An initial $250.00 down-payment will secure the reservation date for 30 days. Balance is due 45 days prior to the reserved date unless otherwise agreed upon in writing. All deposits and payments are non-refundable. CONFETTI'S reserves the right to forfeit reservation and make venue available for rent if contractual agreements are not met.  Forms of payments accepted: check, money order, cash, & all major credit cards. All credit card payments are subject to a convenience fee which is determined by the amount of the payment to be charged. A 10% late fee will be charged for any payments made after agreed-upon due dates. Cancellation/Date Change:  A $250.00 fee will be applied if date of event is changed prior to 45 days of the event, less than 45 days are subject to forfeiture of all payments made unless otherwise agreed upon in writing.
---
Weekday special: (Monday-Thursday) Daytime 25% off, Evening 15% off
Planning an event less than 2 months in advance?
Call 410-825-2378 for availability and special last-minute savings!
---