Mazel tov on your child's upcoming bar/bat mitzvah! With all of the hard work your child has accomplished to get reach this point, why not throw him or her a bar/bat mitzvah that (s)he will remember for years to come!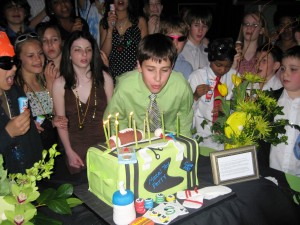 At Baltimore's Best Events, our planners, DJs, and other professionals have been throwing fun, exciting and memorable bar and bat mitzvahs for over a decade, and we are ready to start working with you to plan a party that will make your child's special day amazing and unforgettable!
With our full-service entertainment and production team helping you plan and throw your child's bar or bat mitzvah, you can be confident that the event will be a success and that you and your child will be able to fully enjoy party when the big day finally arrives.
Bar and Bat Mitzvah Entertainment Services
Some of the various services that we provide our clients who are planning bar and bat mitzvahs include (but are not limited to) the following:
Professional MC services – Our experienced MCs can make introductions, lead games and dances and help keep the event energetic and lively while helping it proceed smoothly.
Professional DJ-ing services – Our DJs have an extensive music library, know how to get a party started and can keep the party going.
Sound and lighting services – Part of pulling off the perfect bar and bat mitzvahs is ensuring that the sound and lighting are done just right. We have all of the equipment and skills necessary to make sure that the sound and lighting are perfect so that nothing gets in the way of your child's fun on his or her big day.
Contact Baltimore's Best Events Today
Let our professionals help you turn your hopes and dreams for your child's upcoming bar or bat mitzvah into a reality. To start discussing your bar or bat mitzvah plans and to learn more about our work as birthday party planners and catering services, contact us today by calling (410) 825-2378 or by emailing us via the contact page.
We produce various types of events for clients throughout the Essex and Baltimore, MD areas and surrounding counties, including Washington D.C..
Here our latest reviews!
"The staff at Confetti's made sure that my twin girls' B'not Mitzvah party was a day to remember! They assisted me in designing a room layout that would accommodate our 80+ teens while still making the grown ups feel comfortable too. They were flexible when we wanted to adjust our menu options, and they were even able to fulfill my girls' last minute request for a Shirley Temple Fountain which was a big hit with the kids all night long. The food was great, and Jodi, the servers and bartender all took wonderful care of my guests' needs (and my needs too!). Baltimore's Best also provided our DJ and MC/party starters which can make or break any party. I trusted them to make these selections for me, and we were thrilled with the results! We provided the DJ with some "sample song ideas" in advance, and he completely got it and played music that kept everyone – young and young-at-heart – on the dance floor all night. He even went the extra mile and assisted me with a song mix for a special crazy father/daughters dance surprise. Our MC Andi was phenomenal. She spoke with me AND my girls beforehand about the overall flow we wanted for the party, and then she kept the party rocking and running smoothly and on schedule without me having to worry about a thing. Gia and her team did a great job taking the vision in my head and bringing it to life for my girls, and the night was a total blast! It's been almost a month, and we're still getting compliments from people about what a great time they had. Thank you to Baltimore's Best and Confetti's staff for helping us create a celebration to remember!" -Wendy O. -4/11/16